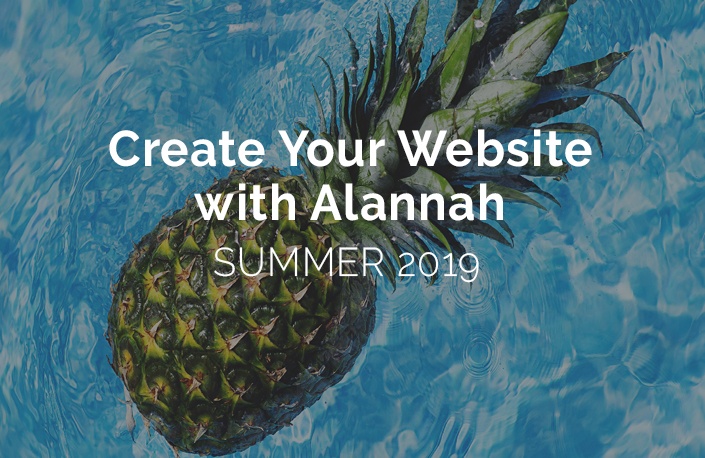 Create Your Website with Alannah: Summer 2019 - Special Flash Sale!
Build your website this summer!
Take advantage of this one-off flash sale to build your own website this summer.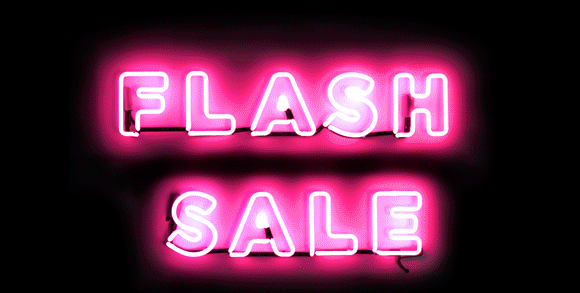 If you've been putting off creating your website, you might find yourself with a bit of free time over the summer in which you can finally get going with it.

In which case it's just the right moment to take advantage of this sale!

Why am I running a flash sale? Last year I ran a series of group website-building courses, but this year I haven't had time to run any at all due to teaching business school classes which have taken all my time since September. People have asked me, but I just don't have time for the group and one-to-one help that the courses require.
That's why I've decided to make all the material available to you, with none of the personal help, at an entirely new lower price, which I can offer because I am not going to be teaching you live.
The material is exactly the same as my group course participants benefitted from last year... but the difference is there is no live teaching from me.
Content divided into 4 chunks - you'll get everything right at the outset so you can forge ahead if you have the time available, or you are in a hurry to go live
made up of online videos and step-by-step instructions that you can access whenever suits you
covers different platforms to suit all needs and ability levels (WordPress, Squarespace, and others I recommend) - I show you how to make the perfect choice for you
loads of resources to help you every step of the way
a roadmap to direct you through the process
a checklist for each of the 4 "weekly" chunks to make sure you stay on track
a personal, written appraisal by me, when you've completed your website, to make sure it's as good as can be. Yes, this is done by me for each individual website EVEN for Flash Sale participants!
About your teacher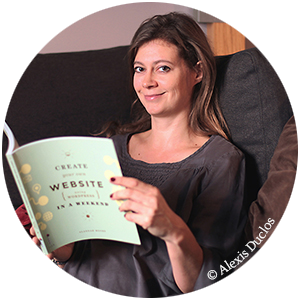 I'm Alannah Moore, DIY website specialist and the author of a number of books about DIY website creation, including the bestselling Create Your Own Website Using WordPress in a Weekend (2013) and Create Your Own Website the Easy Way (2016).

I ran a web design business for many years (starting way back in 2001!) before starting to teach entrepreneurs to create their own websites. Through my books and over the many years of teaching face-to-face workshops I've helped literally thousands of individuals and small business owners create themselves their own successful websites. I now teach web design for business at several different business schools in Paris, France.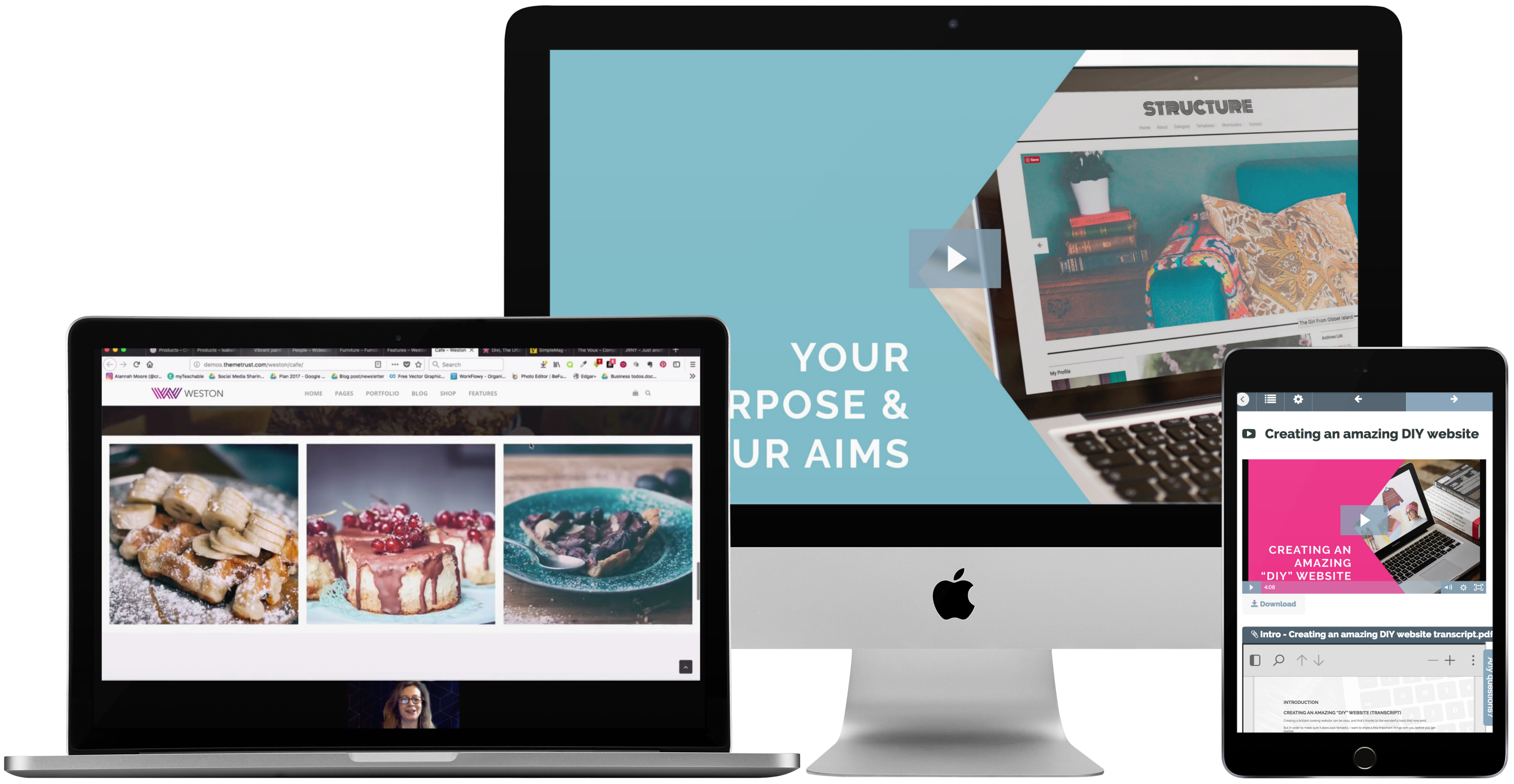 How it works
All the material will be available right from the beginning so you can access it all at once if you want.

"Week" 1: Getting clear on everything
This is the most important thing to do before you begin creating for real. You need to know what you want your website to do for you, what your aims are, what kind of website you're going to build and what you're going to present. As well as having what you plan to do in future in mind.

"Week" 2: Choosing a domain name and a platform
You need a domain name for your new site. You'll choose and register one this week, and make the decision as to which platform or system you're going to use. This can sometimes be a tricky decision but I will help you make the right choice.

"Week" 3: Planning your website
This week you'll get everything ready, from images to text to newsletter signup - whatever you're going to include on your new website. I show you great places to obtain the images you need, how to make a good choice of website template (very important), how to compose your website text so it reads well on the page and appeals to your audience, and how to plan for search engine optimization.

"Week" 4: Building your website
This week your website will spring into life and will go live at the end of the week, or as soon as you are ready to launch it.

The tech documents include step-by-step instructions to set up your site using all the platforms I recommend. In addition, there are extremely detailed videos on how to set up and work with self-hosted WordPress (all the course contents I provide for my separately available WordPress course, selling at $247) as the platform requires much more explanation than any of the other systems and you really need all this info!

Platforms covered are:

Self-hosted WordPress
Squarespace
Wix
Weebly
Strikingly
Shopify
Big Cartel
(The videos will help you make your choice - it doesn't matter at all if you don't know about these plaforms yet.)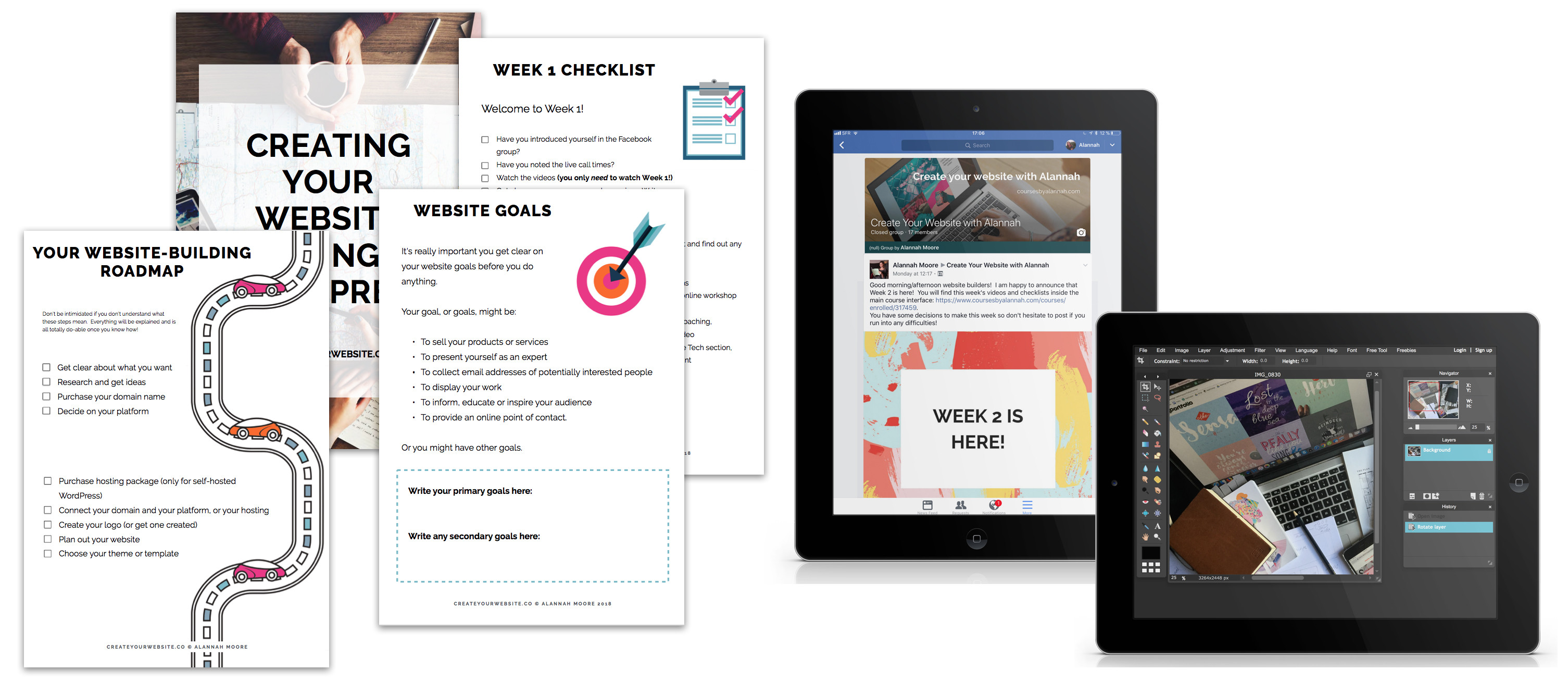 I also show you, through the videos, how to:

create a logo for your website (or get one created) - because every website needs a logo, and
work with a free online image editor (no need for anything fancy), because you'll need to prepare images for your website.
You also get access to two recordings of online workshops showing you:
how to create a portfolio website
how to create a personal brand website (for coaches, consultants, experts, professional services etc).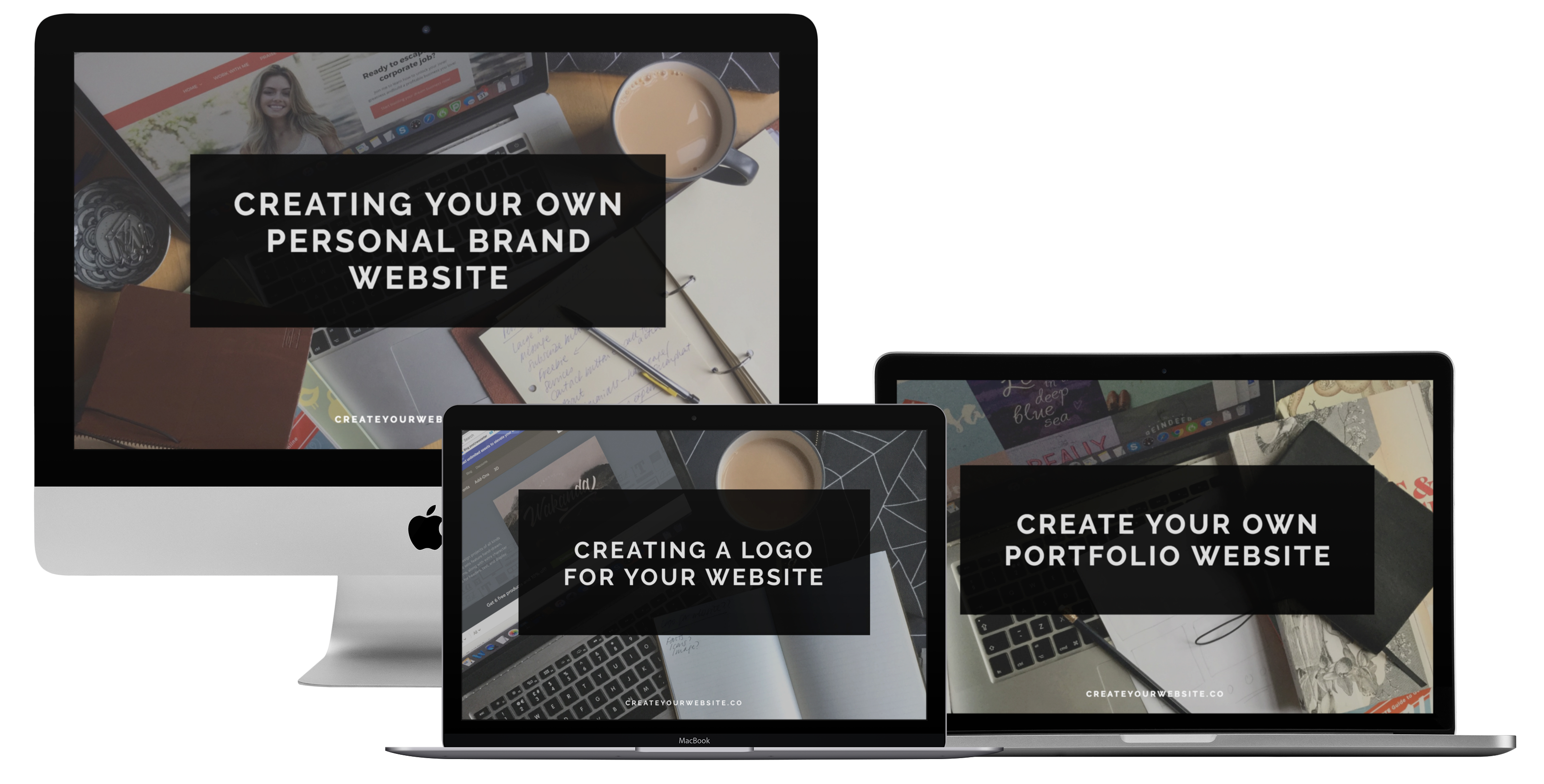 Frequently asked questions
When does the course start and finish?

You need to purchase the materials before the Flash Sale ends, but you can start and finish any time that suits you.

Is there a cut-off date for me to finish my website and get my personalised appraisal?
I will normally be doing the appraisals up to three months after you purchase the course. I put a theoretical limit to make sure you actually get going with your website and get it built - I really want you to get good results from being in the program! But if you let me know that you are behind for any reason, I will of course be happy to do your appraisal for you at a later date.

How long do I have access to the course materials?

I cannot say that you will have lifetime access, because I don't know where the future is leading, and how long I will be running these courses for. You will have unlimited access for as long as I am running courses, and I will give you plenty of notice to download your materials if I intend to stop.

Do I need any technical experience?
Absolutely not. This program is designed for everyone, even people who've never done anything like this before. While you don't need to be any kind of techie, you do need to be relatively confident on your computer, familiar with cutting and pasting, surfing the internet and so on, and willing to experiment with new things.
Do you literally tell me what to do?
Yes! Step-by-step instructions for each of the platforms are included and you can just follow the steps.

The how-tos contained within the course are not encyclopaedic however, as each of the platforms have their own very well set-up knowledge bases and you will be able to find detailed answers there for any queries you may have. I'll direct you of course, if you ever get stuck, and help you find the answer.

Everyone's website needs are different and you will be planning out your own website yourself. The idea of the course is that you are in charge of it entirely independently, and become confident in doing that.

Will you sort out any technical issues?
As emphasised, the idea with this course is that you learn to be self-sufficient with your website. You will choose a system that is suited to your abilities and what kind of website you are planning to build. So while I include step-by-step instructions for each of the platforms, you will need to seek out answers yourself to any complications you come across. You will normally be able to obtain technical assistance from the platform itself (or from the theme or plugin developer in the case of WordPress).

Does the course cover WordPress?
Yes, the course covers self-hosted WordPress in great detail (that's the "full" version of WordPress). WordPress is much more complex than the other platforms you might choose to use, which is why I include very detailed instructions on how to use it. You'll be able to access all the course material included in my very detailed "Create Your Own Website Using WordPress" course ($247) which will really enable you to get a thorough understanding of the complex software.

I also include instructions on how to use several other popular platforms such as Squarespace and Weebly, although these do not require such detailed explanation for you to build a great website with them! I'll talk you through the pros and cons of each of the platforms I recommend so you can make the choice that's right for you.
What platforms does the course cover?
Self-hosted WordPress, Squarespace, Wix, Weebly, Strikingly, Shopify and Big Cartel.

If you want to use another platform that is ok too. You can follow the course working with an entirely different platform if you prefer an alternative to those listed above. I don't provide instructions for any other platform other than these though.
Do you go into programming in the course?
No. This course isn't for you if you want to learn programming - we do not cover any programming or coding at all.
What if I am unhappy with the course?
If you are unsatisfied with your purchase or you decide this "DIY" business isn't for you at all, contact me in the first seven days and I will give you a full refund with no questions asked.
Any more questions?
Feel free to ask! Email me here: [email protected] and I'll get back to you as soon as I can.
Some comments from people who followed the course last year

"I am so glad I signed up for your DIY website course as I've been aiming to get my website up and running for years, but due to overwhelm, perfection paralysis and a lack of 'techie' confidence, never quite managed to make any progress towards my goal. I'm always nervous about signing up for an online course because so many of them oversell and under-deliver but I am delighted to say this is not the case with you or your course and I'm so happy that I joined as it's perfectly designed for someone like me. The whole course is extremely well thought out and presented in logically ordered, easily achievable, practical steps that help you make progress without getting overwhelmed. For people who've been putting off building their website, or are too overwhelmed and need a range of clear simple choices to help you decide what's right for you and your website dreams and then help to actually do it, I can't recommend this course enough." (Catherine)

"I had no idea that I could actually do my own website , and thought I would be beholden to either paying a fortune or continuously nagging my traveling overworked programmer friend who never has time anyway..
So what a revelation that you offer this amazing course and insight from someone who can not only DO websites, but can TEACH me how to do it! And yes, you were right - WordPress is very tricky but with your guidance and the included WordPress course, I can see light in tunnels that were previously black holes of anguish. Your no-nonsense help is invaluable. And I continue on as I've got three sites in progress. Your depth of knowledge is the only thing getting me through this.. Much thanks, it's like DIY but leagues better!" (Picolina)
"When I first heard one of your introductory webinars, I perked up - finally someone who understood my problems! When you even answered an email personally, I knew I had found my go-to expert. To anyone wanting to set up a personal website or improve an existing one, I can only recommend the course - it is logical, easy to follow and most importantly, leads to a feeling of real personal achievement." (Zenaida)
"I found you at the right time or you found me. Your encouragement to stop thinking and get moving on my website was timely. Your website building online class is just what I needed to make my dream of starting a business a reality by building a website in line with how I want to serve my community. Your patience and wisdom and walking us through each step with technical support and instructive checklists and videos lends for a super foundation. These valuable resources are easy to tap into at any time and knowing that we can go back to them helps the website building process immensely. It's just the course I needed to jump start my project—I will recommend it to anyone who wants to accomplish the same." (Milla)
"The course has been excellent for me as it has methodically stepped me through the nitty gritty, as well as introducing me to beautiful and simple-to-use templates for creating my new site. I had been putting off updating my old WordPress site as it seemed a bit of a mammoth task and my objectives had changed so much. So it was wonderful to start over with fresh thinking and get exposed to all the new and easy tools out there now! So much simpler than even two years ago when I last updated my old site." (Lara)

"I highly recommend this program to other people who are determined to get their websites out there with a simple but comprehensive plan and lots of wonderful support. If all goes according to plan I will have my own site up next week!" (Tania)
Praise for Alannah

"Alannah has a passion for what she teaches that is contagious."

John Scotland

"You make everything very easy to understand and explain concepts in a clear and concise way. And you're a really enthusiastic teacher!"
Meg Domingo

"11/10, easily!"

Iain MacDonald

"Alannah is great: she makes WordPress simple!"
Stephanie Griffiths
"Thanks to you I now have a website that is up and running and is making money and I have not had to pay a fortune for it and it is under my control."
Andrew Wilkins
"Alannah is incredible. She is very easy to work with and extremely patient with my lack of technical knowledge."
Gemma Lloyd
"You've given me so many useful tips and details for my website. You are a legend!"
Ruben

"You genuinely invested yourself in supporting me to create a great site, and you provided lots of much needed encouragement along the way. You went well over and above your remit to assist me! I feel certain that I would not have achieved all that I have with my site, had it not been for your guidance."
Anna Larras

"You really simplified WordPress in a manner that I no longer feel intimidated."
Tayyab Dilmohamud
"You reduced the fear of this kind of venture and created a spark of confidence! Thanks again."
Andy Peet
"Your course got me unstuck."
Perry Tatman
"You are a very good teacher. Calm, comprehending, direct and fun."
Alice Nebot
"I can do it, because you showed me how."
Elizabeth Milovidov
Sign up now before the Flash Sale ends.

Sales taxes are applicable according to your location. People signing up from outside Europe will not have to pay any sales tax.
Please bear in mind that you can get your money back within the first week of the course beginning, with no questions asked and no ill feelings, if it turns out that building your own website isn't your thing after all.
It's time to dive in and get your beautiful self-built website online!